NERF ELITE 2.0 LOADOUT PACK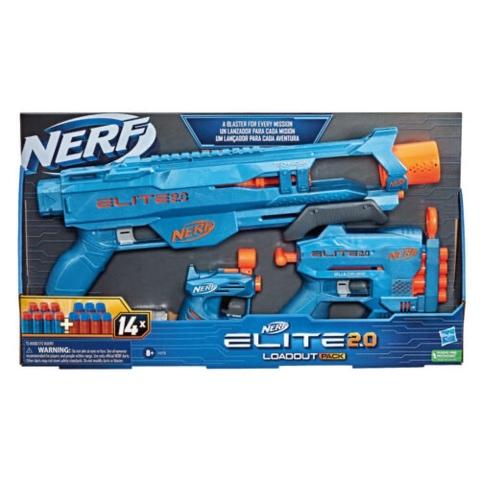 ---
NERF ELITE 2.0 LOADOUT PACK
---
Ихэвчлэн хамт авдаг
Дээрх бүтээлийг авсан хэрэглэгчид ихэвчлэн эдгээрийг хамтад нь авдаг.
---
---
Танилцуулга
This Nerf Elite 2.0 Set Includes 3 Blasters For Lots Of Dart-Firing Fun! The Nerf Elite 2.0 Loadout Pack Includes The Technician Ds-2 Blaster That Has 2-Dart Capacity, Releases 1 Dart At A Time With Pump-Action Priming, And Has A Tactical Rail And A Stock Attachment Point To Customize The Blaster (Stock Not Included). The Quadfire Qs-4 Blaster Has 4-Dart Capacity To Unleash 4 Darts In A Row, A Pull-Back Priming Handle, And A Targeting Sight For Aiming. The Ace Sd-1 Blaster Launches 1 Dart, Has A Pull-Down Priming Handle, And A Targeting Sight That Doubles As Onboard Storage For 1 Dart. This Powerful Pack Includes 14 Official Nerf Elite Foam Darts, Enough To Fully Load All 3 Blasters, And Backup Darts To Reload Them All And Keep On Blasting. Build Your Nerf Collection With The Loadout Pack! It's A Great Gift That Lets You Blast Into Nerf Battles Right Out Of The Box. Eyewear Recommended (Not Included). No Batteries Required. Nerf And All Related Properties Are Trademarks Of Hasbro.
Includes
This product is carefully designed, made of high-quality materials, carefully polished details, smooth edges, suitable for children to play, can also share with other children, play with parents, and promote the development of parent-child relations.
product features
Includes 3 nerf blasters: the nerf elite 2.0 loadout pack includes 3 blasters and 14 nerf elite darts! add to your nerf collection with this special pack. great for gift-giving

Nerf elite 2.0 technician ds-2 blaster with 2-dart blasting: fire 2 darts in a row! includes pump action priming, tactical rail, and stock attachment point (stock not included)

Nerf elite 2.0 quadfire qs-4 blaster with 4-dart blasting: unleash 4 darts in a row! includes pull-back priming handle and targeting sight

Nerf elite 2.0 ace sd-1 blaster with targeting sight: launches 1 dart and has a targeting sight that doubles as onboard 1-dart storage

14 nerf elite darts: this set of 3 nerf elite 2.0 blasters includes 14 official nerf elite foam darts, giving you enough to fully load all 3 blasters and backup darts for reloads
---
---
Хэрэглэгчийн сэтгэгдэл
---
Сэтгэгдэл үлдээх
Бусад үйлчлүүлэгчидтэй санал бодлоо хуваалцаарай
Та сэтгэгдэл бичихийн тулд нэвтэрсэн байх ёстой.
Нэвтрэх
Хэрэглэгчийн сэтгэгдэл байхгүй