Multitasking ballpoint pen (small) - CONSTRUCTION LILIPUT, matt, black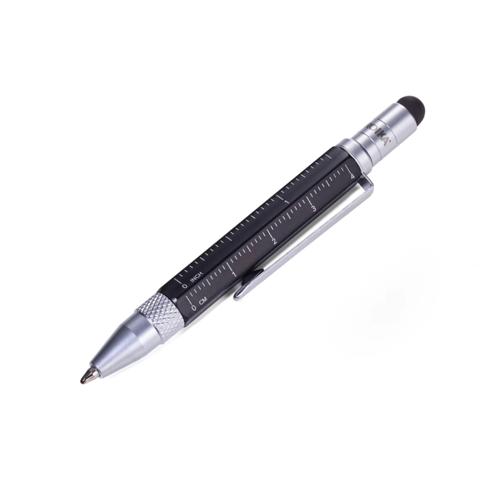 ---
Multitasking ballpoint pen (small) - CONSTRUCTION LILIPUT, matt, black
---
Ихэвчлэн хамт авдаг
Дээрх бүтээлийг авсан хэрэглэгчид ихэвчлэн эдгээрийг хамтад нь авдаг.
---
---
Танилцуулга
In terms of format, the multitasking ballpoint pen is tiny, and can fit anywhere and everywhere. In your shirt pocket, in a small notebook, even in your wallet. But despite this: nobody will cross it. Because its functions make LILIPUT TOOL PEN by TROIKA a giant. And it has everything necessary for a real CONSTRUCTION piece: a centimetre and inch ruler, slotted/Phillips screwdriver, stylus, and black lead, including 2 replacement leads. In matte black, blue, red, silver, titanium, yellow. The stylus is always in the base colour.
Multitasking ballpoint pen (small), centimetre and inch ruler, slotted and Phillips screwdriver, Stylus (black), black refill, incl. 2 refills, aluminium / brass / steel, matt, Black
Mini-planning aid and tool box in one - with different scales, centimetre and inch ruler, slotted/cross screwdriver, stylus
For carrying with you in everyday life, whether it is for work or for private life - it is always better to have a pen handy. The new CONSTRUCTION LILIPUT fits comfortably into the wallet, the briefcase, shirt pocket, etc.
For taking notes, as a stylus, for measuring and screwing - available in many other colours - line width M (1.0mm) - black lead - writing length: 280 m, perfect as a beautiful gift for any occasion - also ideal for architects. Building designers, draftsmen, engineers, etc.
High-quality branded items from TROIKA - Delight people with design gifts!
---
---
Хэрэглэгчийн сэтгэгдэл
---
Сэтгэгдэл үлдээх
Бусад үйлчлүүлэгчидтэй санал бодлоо хуваалцаарай
Та сэтгэгдэл бичихийн тулд нэвтэрсэн байх ёстой.
Нэвтрэх
Хэрэглэгчийн сэтгэгдэл байхгүй