A World Without Email: Find Focus and Transform the Way You Work Forever (from the NYT bestselling productivity expert)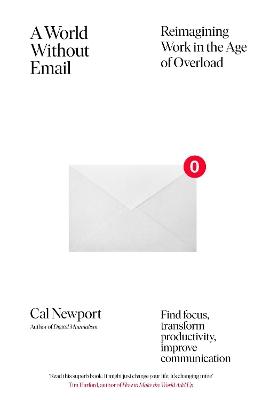 ---
A World Without Email: Find Focus and Transform the Way You Work Forever (from the NYT bestselling productivity expert)
---
---
---
Ихэвчлэн хамт авдаг
Дээрх бүтээлийг авсан хэрэглэгчид ихэвчлэн эдгээрийг хамтад нь авдаг.
---
---
Танилцуулга
***NEW YORK TIMES BESTSELLER***

Feel like you're always drowning in email? How much more would you achieve without them - and how much happier would you be?

 'A World Without Email crystallizes what so many of us feel intuitively but haven't been able to explain: the way we're working isn't working.' Drew Houston, co-founder and CEO of Dropbox
 ________________                       

 Emails are an integral part of work today. But the 'kind regards', forwards and attachments we check every 5.4 minutes are making us unproductive, stressed and costing businesses millions in untapped potential.

 Bestselling author of Deep Work and Digital Minimalism, Cal Newport, is here to offer a radical new vision - a world without email. Drawing on sociology, behavioural economics and fascinating case studies of thriving email-free companies, Newport explains how this modern tool doesn't work for our ancient brains and provides solutions you can implement today to transform your workday into one without constant, distracting pings.

 Revolutionary and practical, A World Without Email will liberate you to do your most profound, fulfilling and creative work - and be happier too.
 ________________

 'If you are currently drowning in endless email and not sure where to start: read this book' Emma Gannon, author of The Multi-Hyphen Method

 'Read this superb book. It might just change your life; it's changing mine' Tim Harford, author of How To Make The World Add Up

 'This is a bold, visionary, almost prophetic book that challenges the status quo' Greg McKeown, author of Essentialism
---
Үзүүлэлт
ISBN-13

:

9780241341414

Худалдаанд гарсан огноо :

2021-03-04

Формат :

Зөөлөн хавтастай

Нүүрний тоо :

320 нүүр

Эрхлэн гаргасан :

Penguin Books Ltd

Жин :

388 гр

Хэмжээс :

234 x 153 x 23 мм
| | |
| --- | --- |
| ISBN-13 | 9780241341414 |
| Худалдаанд гарсан огноо | 2021-03-04 |
| Формат | Зөөлөн хавтастай |
| Нүүрний тоо | 320 нүүр |
| Эрхлэн гаргасан | Penguin Books Ltd |
| Жин | 388 гр |
| Хэмжээс | 234 x 153 x 23 мм |
---
---
Хэрэглэгчийн сэтгэгдэл
---
Сэтгэгдэл үлдээх
Бусад үйлчлүүлэгчидтэй санал бодлоо хуваалцаарай
Та сэтгэгдэл бичихийн тулд нэвтэрсэн байх ёстой.
Нэвтрэх
Хэрэглэгчийн сэтгэгдэл байхгүй