Zen: The Art of Simple Living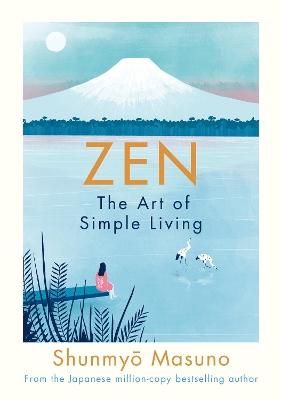 ---
Zen: The Art of Simple Living
---
---
---
Ихэвчлэн хамт авдаг
Дээрх бүтээлийг авсан хэрэглэгчид ихэвчлэн эдгээрийг хамтад нь авдаг.
---
---
Танилцуулга
Be more Zen in 2022 with this little book of 100 tips and activities to soothe the soul

'Brings the spirit of Zen Buddhism to everyday life . . . 100 snack-size Zen activities you can do daily to add more calm to your life' Daily Telegraph
_______

Zen is the perfect antidote to the stress and uncertainty of modern life . . .

In clear, practical and easy to follow lessons - one a day for 100 days - renowned Buddhist monk Shunmyo Masuno draws on centuries of wisdom to show you how to apply the essence of Zen to modern life.

You will learn how to exhale deeply to eliminate negative emotions, to arrange your house simply to clear your thinking, to line up your shoes at night to bring order to your mind, to plant a single flower and watch it grow, to worry less about what you cannot control, and so much more . . .

You will even make time to think about nothing at all.

Simplify your life with the art of Zen, and learn how to feel more relaxed, fulfilled, and with a renewed sense of peace.
_______

'Full of the simplest yet richest rituals to adopt in order to live a long and happy life, this book of wisdom is a soothing balm of peace for anyone living in the busy modern world' Psychologies

'Does for mental clutter what Marie Kondo has done for household clutter' Publisher's Weekly

'This little treasure needs to be at every bedside' llan Lokos, author of Through the Flames, Patience, and Pocket Peace

'Zen: The Art of Simple Living makes the wisdom of the Buddha radically accessible' Dzogchen Ponlop Rinpoche, author of Emotional Rescue and Rebel Buddha
---
Үзүүлэлт
ISBN-13

:

9780241371831

Худалдаанд гарсан огноо :

2019-04-18

Формат :

Хатуу хавтастай

Нүүрний тоо :

224 нүүр

Эрхлэн гаргасан :

Penguin Books Ltd

Жин :

420 гр

Хэмжээс :

180 x 130 x 20 мм
| | |
| --- | --- |
| ISBN-13 | 9780241371831 |
| Худалдаанд гарсан огноо | 2019-04-18 |
| Формат | Хатуу хавтастай |
| Нүүрний тоо | 224 нүүр |
| Эрхлэн гаргасан | Penguin Books Ltd |
| Жин | 420 гр |
| Хэмжээс | 180 x 130 x 20 мм |
---
---
Хэрэглэгчийн сэтгэгдэл
---
Сэтгэгдэл үлдээх
Бусад үйлчлүүлэгчидтэй санал бодлоо хуваалцаарай
Та сэтгэгдэл бичихийн тулд нэвтэрсэн байх ёстой.
Нэвтрэх
Хэрэглэгчийн сэтгэгдэл байхгүй