Life Cycles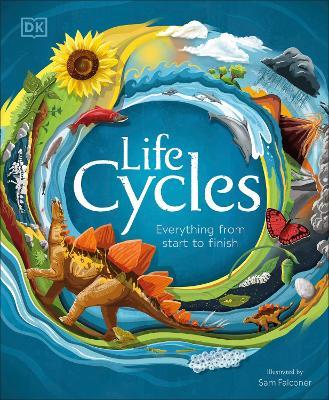 ---
---
---
Ихэвчлэн хамт авдаг
Дээрх бүтээлийг авсан хэрэглэгчид ихэвчлэн эдгээрийг хамтад нь авдаг.
---
---
Танилцуулга
Take a look into the circle of life through the life cycles of the planet and everything on it!

Everything begins and everything ends - but what happens in between? Find out in this stunning nature book. Learn about human life and development, processes in nature, how animals change over time, how the universe was formed, and so much more. 

This illustrated children's book for Key Stage 2 learners ages 7-11 years includes:

- More than 60 life cycles featured
- Stunning photographs that capture key moments during a life cycle, such as penguin chicks huddling together to keep warm and the beauty of an orchid in full bloom
- Bite-size facts and stats about every animal, plant, planet, and habitat featured
- A great new angle on the world, the universe, and our place in it

If you're looking for facts about the universe then this is the book for you! Based on key concepts found in the STEM learning curriculum, Life Cycles captures life on the planet through captivating illustrations and photography, amazing facts, and essay-to-read text. You'll take a closer look at the life cycles of environments, and extinct animals like the dinosaurs, too! 

The life cycles in this reference book have been carefully chosen to give you an amazing overview of the universe, and how everything is linked. Discover a new life cycle every time you turn the page: how a river forms and changes over time, how a tree grows, see how coral reefs form. Follow the life cycles of weather - from the water cycle to ice ages, to give you a better idea of the climate change we find ourselves in now.

From the single-celled amoeba, mountains, and volcanoes to continents, oceans, and the solar system - take a deeper look into life on earth and all its intricacies! If you enjoyed Life Cycles, why not look explore the world of water in Water Cycles: Everything form Start to Finish? Discover all the stages from rain to the formation of rivers, and the difference between fresh and saltwater and the part they play in the cycle of life on earth.
---
Үзүүлэлт
ISBN-13

:

9780241410998

Худалдаанд гарсан огноо :

2020-05-28

Формат :

Хатуу хавтастай

Нүүрний тоо :

144 нүүр

Эрхлэн гаргасан :

Dorling Kindersley Ltd

Жин :

1024 гр
| | |
| --- | --- |
| ISBN-13 | 9780241410998 |
| Худалдаанд гарсан огноо | 2020-05-28 |
| Формат | Хатуу хавтастай |
| Нүүрний тоо | 144 нүүр |
| Эрхлэн гаргасан | Dorling Kindersley Ltd |
| Жин | 1024 гр |
---
---
Хэрэглэгчийн сэтгэгдэл
---
Сэтгэгдэл үлдээх
Бусад үйлчлүүлэгчидтэй санал бодлоо хуваалцаарай
Та сэтгэгдэл бичихийн тулд нэвтэрсэн байх ёстой.
Нэвтрэх
Хэрэглэгчийн сэтгэгдэл байхгүй