The Man Who Died Twice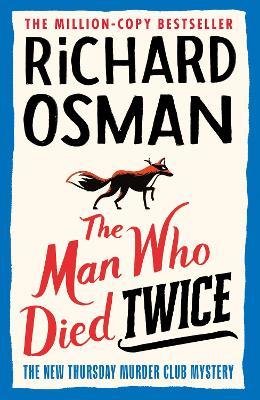 ---
---
---
---
Ихэвчлэн хамт авдаг
Дээрх бүтээлийг авсан хэрэглэгчид ихэвчлэн эдгээрийг хамтад нь авдаг.
---
---
Танилцуулга
'Moving, hilarious, brilliantly suspenseful' Jeffery Deaver 'A thing of joy' Kate Atkinson 'The tonic we all need' Shari Lapena 'This slick sequel will leave you buzzing' The Times THE SECOND NOVEL IN THE RECORD-BREAKING, MILLION-COPY BESTSELLING THURSDAY MURDER CLUB SERIES BY RICHARD OSMAN ---------------------------------------------- It's the following Thursday. Elizabeth has received a letter from an old colleague, a man with whom she has a long history. He's made a big mistake, and he needs her help. His story involves stolen diamonds, a violent mobster, and a very real threat to his life. As bodies start piling up, Elizabeth enlists Joyce, Ibrahim and Ron in the hunt for a ruthless murderer. And if they find the diamonds too? Well, wouldn't that be a bonus? But this time they are up against an enemy who wouldn't bat an eyelid at knocking off four septuagenarians. Can the Thursday Murder Club find the killer (and the diamonds) before the killer finds them? ---------------------------------------------- 'I absolutely loved it. He's not only done it again, but he's done it even better' Philippa Perry, The Book you Wish Your Parents Had Read 'Twisty, witty fun' Sunday Express 'Superbly entertaining' Guardian 'I laughed my arse off' Belinda Bauer, Exit 'Funny, clever and achingly British' Adam Kay, This is Going to Hurt 'Full of humour and heart. I loved it' Harlan Coban, Win 'Darkly funny, offbeat and deftly written' Irish Independent 'As gripping as it is funny' Evening Standard 'If you liked The Thursday Murder Club, you're in for a treat, as this sequel is even better' Good Housekeeping 'Warm, funny and oh-so British' i 'A properly funny mystery steeped in Agatha Christie' Araminta Hall, Hidden Depths 'It's like reading ice cream... a pure pleasure' Linwood Barclay 'Osman's world is a soothing place to be' Sunday Telegraph 'Pure pleasure to read' Observer 'Clever, warm and very funny... they'll cradle you through any winter of discontent' Richard and Judy, Daily Express
---
Үзүүлэлт
ISBN-13

:

9780241425435

Худалдаанд гарсан огноо :

2021-09-16

Формат :

Зөөлөн хавтастай

Нүүрний тоо :

432 нүүр

Эрхлэн гаргасан :

Penguin Books Ltd

Жин :

521 гр
| | |
| --- | --- |
| ISBN-13 | 9780241425435 |
| Худалдаанд гарсан огноо | 2021-09-16 |
| Формат | Зөөлөн хавтастай |
| Нүүрний тоо | 432 нүүр |
| Эрхлэн гаргасан | Penguin Books Ltd |
| Жин | 521 гр |
---
---
Хэрэглэгчийн сэтгэгдэл
---
Сэтгэгдэл үлдээх
Бусад үйлчлүүлэгчидтэй санал бодлоо хуваалцаарай
Та сэтгэгдэл бичихийн тулд нэвтэрсэн байх ёстой.
Нэвтрэх
Хэрэглэгчийн сэтгэгдэл байхгүй