Numbers Don't Lie: 71 Things You Need to Know About the World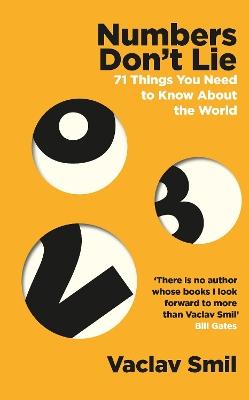 ---
Numbers Don't Lie: 71 Things You Need to Know About the World
---
---
---
Ихэвчлэн хамт авдаг
Дээрх бүтээлийг авсан хэрэглэгчид ихэвчлэн эдгээрийг хамтад нь авдаг.
---
---
Танилцуулга
'There is no author whose books I look forward to more than Vaclav Smil' Bill Gates Is flying dangerous? How much do the world's cows weigh? And what makes people happy? From earth's nations and inhabitants, through the fuels and foods that energize them, to the transportation and inventions of our modern world - and how all of this affects the planet itself - in Numbers Don't Lie, Professor Vaclav Smil takes us on a fact-finding adventure, using surprising statistics and illuminating graphs to challenge lazy thinking. Packed with 'Well-I-never-knew-that' information and with fascinating and unusual examples throughout, we find out how many people it took to build the Great Pyramid, that vaccination yields the best return on investment, and why electric cars aren't as great as we think (yet). There's a wonderful mix of science, history and wit, all in bite-sized chapters on a broad range of topics. Urgent and essential, Numbers Don't Lie inspires readers to interrogate what they take to be true in these significant times. Smil is on a mission to make facts matter, because after all, numbers may not lie, but which truth do they convey? 'He is rigorously numeric, using data to illuminate every topic he writes about. The word "polymath" was invented to describe people like him' Bill Gates 'Important' Mark Zuckerberg, on Energy 'One of the world's foremost thinkers on development history and a master of statistical analysis . . . The nerd's nerd' Guardian 'There is perhaps no other academic who paints pictures with numbers like Smil' Guardian 'In a world of specialized intellectuals, Smil is an ambitious and astonishing polymath who swings for fences . . . They're among the most data-heavy books you'll find, with a remarkable way of framing basic facts' Wired 'Vaclav Smil has led a 30-year career of interdisciplinary contrarianism, writing hundreds of scientific articles and dozens of books attacking sacred cows of Western environmental and geopolitical thought' Foreign Policy 'For a couple of decades, Vaclav Smil has been on my go-to list when questions arise about global trends and risks, and particularly about energy. He is a distinguished professor on the environment faculty at the University of Manitoba but really should be in the department of everything' Andrew Revkin, The New York Times 'One of the world's foremost experts on energy' Foreign Affairs 'An author who does not allow facts to be obscured or overshadowed by politics' New York Review of Books 'The man who has quietly shaped how the world thinks about energy' Science Magazine 'A radical thinker on energy and environmental issues' Financial Times 'He's a slayer of bullshit' David Keith, Gordon McKay Professor of Applied Physics & Professor of Public Policy, Harvard University Vaclav Smil is Distinguished Professor Emeritus at the University of Manitoba. He is the author of over forty books on topics including energy, environmental and population change, food production and nutrition, technical innovation, risk assessment and public policy. No other living scientist has had more books (on a wide variety of topics) reviewed in Nature. A Fellow of the Royal Society of Canada, in 2010 he was named by Foreign Policy as one of the Top 100 Global Thinkers. This is his first book for a more general readership.
---
Үзүүлэлт
ISBN-13

:

9780241454428

Худалдаанд гарсан огноо :

2020-10-01

Формат :

Зөөлөн хавтастай

Нүүрний тоо :

384 нүүр

Эрхлэн гаргасан :

Penguin Books Ltd

Жин :

465 гр

Хэмжээс :

234 x 153 x 27 мм
| | |
| --- | --- |
| ISBN-13 | 9780241454428 |
| Худалдаанд гарсан огноо | 2020-10-01 |
| Формат | Зөөлөн хавтастай |
| Нүүрний тоо | 384 нүүр |
| Эрхлэн гаргасан | Penguin Books Ltd |
| Жин | 465 гр |
| Хэмжээс | 234 x 153 x 27 мм |
---
---
Хэрэглэгчийн сэтгэгдэл
---
Сэтгэгдэл үлдээх
Бусад үйлчлүүлэгчидтэй санал бодлоо хуваалцаарай
Та сэтгэгдэл бичихийн тулд нэвтэрсэн байх ёстой.
Нэвтрэх
Хэрэглэгчийн сэтгэгдэл байхгүй