The Searcher: The mesmerising new mystery from the Sunday Times bestselling author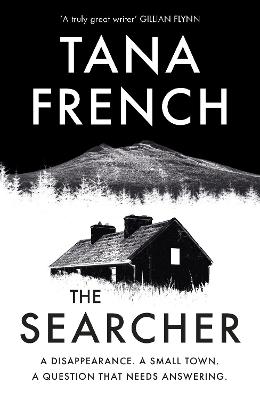 ---
The Searcher: The mesmerising new mystery from the Sunday Times bestselling author
---
---
---
Ихэвчлэн хамт авдаг
Дээрх бүтээлийг авсан хэрэглэгчид ихэвчлэн эдгээрийг хамтад нь авдаг.
---
---
Танилцуулга
'Terrific - terrifying, amazing' STEPHEN KING
 'Completely, indescribably magnificent' MARIAN KEYES
 -----------------------------------------------------------
 
 A DISAPPEARANCE. A SMALL TOWN. A QUESTION THAT NEEDS ANSWERING...

 Cal Hooper thought a fixer-upper in a remote Irish village would be the perfect escape. After twenty-five years in the Chicago police force, and a bruising divorce, he just wants to build a new life in a pretty spot with a good pub where nothing much happens.

 But then a local kid comes looking for his help. His brother has gone missing, and no one, least of all the police, seems to care. Cal wants nothing to do with any kind of investigation, but somehow he can't make himself walk away.

 Soon Cal will discover that even in the most idyllic small town, secrets lie hidden, people aren't always what they seem, and trouble can come calling at his door.

 A gripping tale of breath-taking beauty and suspense that asks how we decide what's right and wrong in a world where neither is simple, and what we risk if we fail.

 WINTER RICHARD AND JUDY BOOKCLUB PICK
 THE SUNDAY TIMES PAPERBACK OF THE YEAR 2021
 THE TIMES PAPERBACK OF THE YEAR 2021
 FT BEST BOOK OF 2020
 THE GUARDIAN BEST CRIME AND THRILLER BOOK OF 2020
 THE TIMES THRILLER OF THE YEAR 2020

 -----------------------------------------------------------

 WHAT EVERYONE IS SAYING ABOUT TANA FRENCH

 'I'm a big fan of Tana French' IAN RANKIN

 'I didn't want it to end' HARRIET TYCE

 'An engrossing, unpredictable, beautifully written mystery' SOPHIE HANNAH

 'To say Tana French is one of the great thriller writers is really too limiting. Rather she's simply this: a truly great writer' GILLIAN FLYNN

 'This mystery about family, memory and the cracks in both will haunt you for a long, long time' ERIN KELLY

 'Immersive and atmospheric ... Cal and Trey could very well be the new sort of heroes we need in this strange world' ARAMINTA HALL

 'This is a tour de force of suspense and storytelling. Comes closer to perfection than anything I've read in the last decade' SARAH HILARY

 'A tale of flawed characters, complex relationships and elusive loyalties. Subtle and powerful' CHRIS HAMMER

 'The Searcher is its own kind of masterpiece' THE WASHINGTON POST

 'One of the most compulsive psychological mysteries since Donna Tartt's The Secret History' THE TIMES

 'The Wych Elm should cement French's place in the first rank of great literary novelists' OBSERVER

 'French offers a masterclass in unreliability' SUNDAY TIMES

 '[Crime fiction's] biggest contemporary star' GUARDIAN

 'One of the finest writers of contemporary crime fiction ... a work of great strength and beauty' THE DAILY MAIL

 'This compulsive, beautifully written thriller - part modern Western, part satisfying mystery - is brilliantly character-driven, perfectly evoking life in a small Irish town' THE SUNDAY MIRROR

 'An audacious departure for this immensely talented author . . . not to be missed' THE NEW YORK TIMES

 'Nuanced and compelling' THE NEW YORKER
---
Үзүүлэлт
ISBN-13

:

9780241459416

Худалдаанд гарсан огноо :

2021-09-14

Формат :

Зөөлөн хавтастай

Нүүрний тоо :

400 нүүр

Эрхлэн гаргасан :

Penguin Books Ltd

Жин :

481 гр

Хэмжээс :

234 x 153 x 29 мм
| | |
| --- | --- |
| ISBN-13 | 9780241459416 |
| Худалдаанд гарсан огноо | 2021-09-14 |
| Формат | Зөөлөн хавтастай |
| Нүүрний тоо | 400 нүүр |
| Эрхлэн гаргасан | Penguin Books Ltd |
| Жин | 481 гр |
| Хэмжээс | 234 x 153 x 29 мм |
---
---
Хэрэглэгчийн сэтгэгдэл
---
Сэтгэгдэл үлдээх
Бусад үйлчлүүлэгчидтэй санал бодлоо хуваалцаарай
Та сэтгэгдэл бичихийн тулд нэвтэрсэн байх ёстой.
Нэвтрэх
Хэрэглэгчийн сэтгэгдэл байхгүй