What's Where on Earth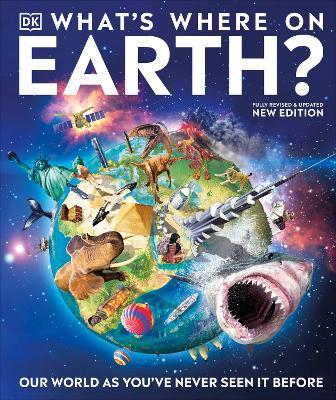 ---
---
---
Ихэвчлэн хамт авдаг
Дээрх бүтээлийг авсан хэрэглэгчид ихэвчлэн эдгээрийг хамтад нь авдаг.
---
---
Танилцуулга
Pack your bags and let's go on an action-packed tour around the world with this geography book for kids!

On this adventure, you'll travel back in time to see how the continents have evolved, marvel at incredible geographical features, see the world's cities and landmarks, and admire incredible wildlife. 

The unique children's atlas brings the Earth into your living room! It includes:

- Each map brings an instant understanding of both the subject and its spatial distribution
- Every spread features a hard-working key that supports the main map to give a richer understanding of the topic
- Extra panels develop the map's subject, offering new angles into the topic or providing background information

A trip of a lifetime awaits! Are you in? Inside the pages of this fantastic children's educational book, you'll get to climb the tallest buildings, swim the longest rivers, dive down to underwater shipwrecks, and come face to face with the deadliest creatures! You'll also discover the answers to 1000s of fascinating questions about the world. Where are the most explosive volcanoes? Where do the world's billionaires live? 

More than 60 specially commissioned 3D maps delve into a range of topics, from the animal kingdom to earthquakes, making the world atlas perfect for fact-hungry children aged 8-12. This fully updated edition includes new content on topics including pandemics, climate change, the internet, world populations, poverty and television to reflect the world we live in today.

The What's Where on Earth? series from DK is so much more than just books filled with cool maps, stats, and fun facts for kids, it's also a vital source of learning - perfect for children to dip into for school projects! Learn about the prehistoric world and find out where dinosaurs roamed with What's Where on Earth? Dinosaur Atlas.
---
Үзүүлэлт
ISBN-13

:

9780241490372

Худалдаанд гарсан огноо :

2021-09-02

Формат :

Хатуу хавтастай

Нүүрний тоо :

192 нүүр

Эрхлэн гаргасан :

Dorling Kindersley Ltd

Жин :

1343 гр
| | |
| --- | --- |
| ISBN-13 | 9780241490372 |
| Худалдаанд гарсан огноо | 2021-09-02 |
| Формат | Хатуу хавтастай |
| Нүүрний тоо | 192 нүүр |
| Эрхлэн гаргасан | Dorling Kindersley Ltd |
| Жин | 1343 гр |
---
---
Хэрэглэгчийн сэтгэгдэл
---
Сэтгэгдэл үлдээх
Бусад үйлчлүүлэгчидтэй санал бодлоо хуваалцаарай
Та сэтгэгдэл бичихийн тулд нэвтэрсэн байх ёстой.
Нэвтрэх
Хэрэглэгчийн сэтгэгдэл байхгүй