Ghosts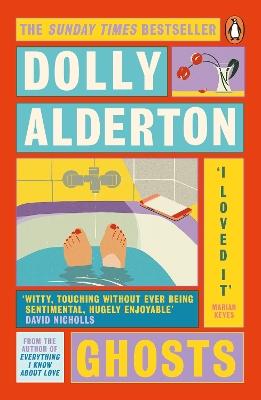 ---
---
---
Ихэвчлэн хамт авдаг
Дээрх бүтээлийг авсан хэрэглэгчид ихэвчлэн эдгээрийг хамтад нь авдаг.
---
---
Танилцуулга
A 21ST CENTURY LOVE STORY AND TOP 10 SUNDAY TIMES BESTSELLER 

 'Utter BRILLIANCE . . . I absolutely LOVED it!' Marian Keyes, bestselling author of GROWN UPS

'I loved it' Candice Carty-Williams, bestselling author of QUEENIE
 __________________________________________________

 Everything gets easier in your thirties, right?

Though she has plenty to celebrate - successful career, new home, loving friends and family - for Nina Dean, her thirties have not exactly been the liberating experience she was sold. From fading friendships to exes popping the question, everyone is moving on (or worse, to the suburbs). And as her dad slowly loses his memories, her mum seems dead set on making new ones. 

Then she meets Max, who tells her on date one that he's going to marry her. But what seems like an exciting new development will ensure this year is Nina's strangest yet . . . 
____________________________________________________

SHORTLISTED FOR THE COMEDY WOMEN IN PRINT PRIZE 

 'A book so relatable you'll give yourself neck ache nodding in recognition' Grazia

'Funny, sharply observed, poignant' Matt Haig, bestselling author of THE MIDNIGHT LIBRARY 

'Alderton masterfully exposes the hideous reality of dating in your 30s . . . I adored it' Daily Mail

'Like having one of those glorious girls night in, where you drink till the early hours - laughing, venting, and feeling warm and seen' Holly Bourne, author of HOW DO YOU LIKE ME NOW?

'Dolly sums up life in your thirties with such wit, warmth and accuracy' Heat

'Dolly is such a fantastic writer' Jill Mansell, author of AND NOW YOU'RE BACK

'The perfect no-holds-barred modern day rom-com' Stylist
---
Үзүүлэлт
ISBN-13

:

9780241988688

Худалдаанд гарсан огноо :

2021-07-22

Формат :

Зөөлөн хавтастай

Нүүрний тоо :

352 нүүр

Эрхлэн гаргасан :

Penguin Books Ltd

Жин :

248 гр
| | |
| --- | --- |
| ISBN-13 | 9780241988688 |
| Худалдаанд гарсан огноо | 2021-07-22 |
| Формат | Зөөлөн хавтастай |
| Нүүрний тоо | 352 нүүр |
| Эрхлэн гаргасан | Penguin Books Ltd |
| Жин | 248 гр |
---
---
Хэрэглэгчийн сэтгэгдэл
---
Сэтгэгдэл үлдээх
Бусад үйлчлүүлэгчидтэй санал бодлоо хуваалцаарай
Та сэтгэгдэл бичихийн тулд нэвтэрсэн байх ёстой.
Нэвтрэх
Хэрэглэгчийн сэтгэгдэл байхгүй