Book Lovers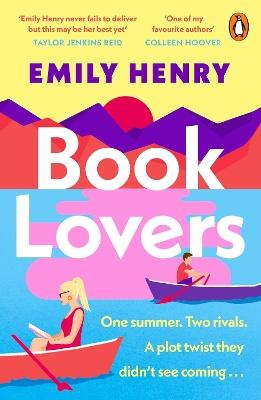 ---
---
---
Ихэвчлэн хамт авдаг
Дээрх бүтээлийг авсан хэрэглэгчид ихэвчлэн эдгээрийг хамтад нь авдаг.
---
---
Танилцуулга
One holiday. Two rivals. A plot twist they didn't see coming...

--------

'Her best yet' Taylor Jenkins Reid, Malibu Rising
'One of my favourite authors' Colleen Hoover, It Ends With Us
'Magical, delightful, and utterly one of a kind' Ali Hazelwood, The Love Hypothesis

Nora is a cut-throat literary agent at the top of her game. Her whole life is books.

Charlie is an editor with a gift for creating bestsellers. And he's Nora's work nemesis.

Nora has been through enough break-ups to know she's the one men date before finding their happy-ever-after. To prevent another dating dud, Nora's sister has persuaded her to swap her city desk for a month's holiday in Sunshine Falls.

It's a small town straight out of a romance novel, but instead of meeting sexy lumberjacks, handsome doctors or cute bartenders, Nora keeps bumping into...Charlie.

She's no heroine. He's no hero. So can they take a page out of an entirely different book?

Brimming with witty banter, characters you can't help but fall for and off-the-charts chemistry, BOOK LOVERS is Emily Henry's best novel yet.

--------

'Emily Henry's books are a gift, the perfect balance between steamy and sweet' V. E Schwab, Gallant

'So smart, so funny, so sexy' Beth O'Leary, The No-Show

'Emily Henry has another hit on her hands' Sophie Cousens, Just Haven't Met You Yet

'A thoroughly modern yet classic romance' Sunday Times

'Heartfelt, funny, and full of joy. (Also, three cheers for Nora's super-relatable bangs journey!)' Tia Williams, Seven Days in June

'The master of witty repartee' Daily Mail

'Super fun, sassy, smart, sexy... Emily Henry is now an auto-buy author for me' Red Magazine

'Book Lovers is Schitt's Creek for book nerds' Casey Mcquiston, One Last Stop

'The most phenomenal portrayal of enemies to lovers I have ever read. . .' Laura Jane Williams, Our Stop
---
Үзүүлэлт
ISBN-13

:

9780241995341

Худалдаанд гарсан огноо :

2022-05-12

Формат :

Зөөлөн хавтастай

Нүүрний тоо :

384 нүүр

Эрхлэн гаргасан :

Penguin Books Ltd

Жин :

260 гр
| | |
| --- | --- |
| ISBN-13 | 9780241995341 |
| Худалдаанд гарсан огноо | 2022-05-12 |
| Формат | Зөөлөн хавтастай |
| Нүүрний тоо | 384 нүүр |
| Эрхлэн гаргасан | Penguin Books Ltd |
| Жин | 260 гр |
---
---
Хэрэглэгчийн сэтгэгдэл
---
Сэтгэгдэл үлдээх
Бусад үйлчлүүлэгчидтэй санал бодлоо хуваалцаарай
Та сэтгэгдэл бичихийн тулд нэвтэрсэн байх ёстой.
Нэвтрэх
Хэрэглэгчийн сэтгэгдэл байхгүй