50 Economics Classics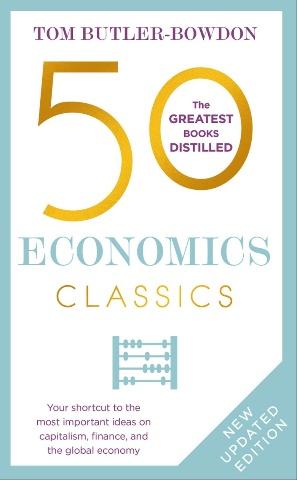 ---
---
---
Ихэвчлэн хамт авдаг
Дээрх бүтээлийг авсан хэрэглэгчид ихэвчлэн эдгээрийг хамтад нь авдаг.
---
---
Танилцуулга
Economics drives the modern world and shapes our lives, but few of us feel we have time to engage with the breadth of ideas in the subject.

 50 Economics Classics is the smart person's guide to two centuries of discussion of finance, capitalism and the global economy. From Adam Smith's Wealth of Nations to Thomas Piketty's bestseller Capital in the Twenty-First Century, here are the great reads, seminal ideas and famous texts, clarified and illuminated for all.


The revised edition will:
*        include 5-6 new titles addressing some more up to date areas of the subject such as The Bitcoin Standard, The Age of Surveillance Capitalism and Discrimination and Disparities
*        have a revised introduction to reflect on the current turbulence and challenges facing the global economy over the next decade
*        have some of the less relevant titles removed


'Something of a modern classic in its own right.' 
E&T magazine

'50 Economics Classics is a celebration of the large imaginative canvasses of the great economists. Butler-Bowdon's choices are broad, interdisciplinary and compellingly idiosyncratic. His chapters are not simply straight summaries of the chosen works, but thoughtful reflections on why we should care about this or that book and what its relevance is for us today. Butler-Bowdon's renderings are done so well that one might never bother going back to the original! Professional economists, students and general readers alike will find much here to delight in and many new byways to explore.'
Niall Kishtainy, Fellow in Economic History, London School of Economics
---
Үзүүлэлт
ISBN-13

:

9781399800990

Худалдаанд гарсан огноо :

2022-07-21

Формат :

Зөөлөн хавтастай

Нүүрний тоо :

384 нүүр

Эрхлэн гаргасан :

John Murray Press

Жин :

380 гр
| | |
| --- | --- |
| ISBN-13 | 9781399800990 |
| Худалдаанд гарсан огноо | 2022-07-21 |
| Формат | Зөөлөн хавтастай |
| Нүүрний тоо | 384 нүүр |
| Эрхлэн гаргасан | John Murray Press |
| Жин | 380 гр |
---
---
Хэрэглэгчийн сэтгэгдэл
---
Сэтгэгдэл үлдээх
Бусад үйлчлүүлэгчидтэй санал бодлоо хуваалцаарай
Та сэтгэгдэл бичихийн тулд нэвтэрсэн байх ёстой.
Нэвтрэх
Хэрэглэгчийн сэтгэгдэл байхгүй