Churchill's Legacy: Two Speeches to Save the World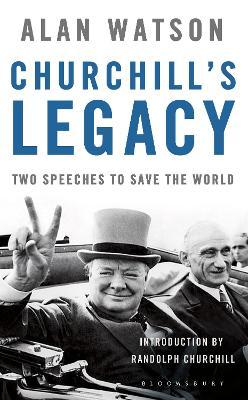 ---
Churchill's Legacy: Two Speeches to Save the World
---
---
---
Ихэвчлэн хамт авдаг
Дээрх бүтээлийг авсан хэрэглэгчид ихэвчлэн эдгээрийг хамтад нь авдаг.
---
---
Танилцуулга
Churchill's Legacy describes how Churchill wielded his influence in post-war politics to enable the restoration of Europe through two key speeches in 1946.  Having first helped bring victory to the Allies in 1945, Churchill went on to preserve the freedom of the world by gaining the support of the United States in the restoration of Europe.  

In Fulton Missouri, Churchill alerted America to the reality of 'Uncle Joe' — a tyrant determined to dominate Europe at any cost. Churchill called for an Anglo-American alliance based on their shared values and the deterrent of America's possession of the atomic bomb.  Churchill also urged the Americans to recognise the debt they owed Britain for opposing Hitler in 1940.  In doing so, he contributed to the US thinking behind the need for the Marshall Plan.  

In Zurich, Churchill boldly proposed a partnership between France and Germany: a United States of Europe. The hatred stirred up by the war had to be replaced by partnership for Europe to recover its economic vitality and regain its moral stature.  Together, the Anglo-American Alliance and a United States of Europe led by France and Germany would have the power to 'smite the crocodile' of Soviet ambition. 
To understand what Churchill intended with these two speeches requires perspective. The daring of his imagination and the scale of his architecture for a new Western Alliance was extraordinary. At the time, not many recognized the symmetry of what was proposed. At Churchill's funeral in 1965, commentators bemoaned the end of an era. In truth, Churchill was the catalyst of a new era—one built upon effective defence, economic revival, and European unity. His speeches have been added to UNESCO'S International Memory of the World Register.
---
Үзүүлэлт
ISBN-13

:

9781408880210

Худалдаанд гарсан огноо :

2023-01-12

Формат :

Хатуу хавтастай

Нүүрний тоо :

224 нүүр

Эрхлэн гаргасан :

Bloomsbury Publishing PLC

Жин :

381 гр
| | |
| --- | --- |
| ISBN-13 | 9781408880210 |
| Худалдаанд гарсан огноо | 2023-01-12 |
| Формат | Хатуу хавтастай |
| Нүүрний тоо | 224 нүүр |
| Эрхлэн гаргасан | Bloomsbury Publishing PLC |
| Жин | 381 гр |
---
---
Хэрэглэгчийн сэтгэгдэл
---
Сэтгэгдэл үлдээх
Бусад үйлчлүүлэгчидтэй санал бодлоо хуваалцаарай
Та сэтгэгдэл бичихийн тулд нэвтэрсэн байх ёстой.
Нэвтрэх
Хэрэглэгчийн сэтгэгдэл байхгүй