The Billionaires Club: The Unstoppable Rise of Football's Super-rich Owners WINNER FOOTBALL BOOK OF THE YEAR, SPORTS BOOK AWARDS 2018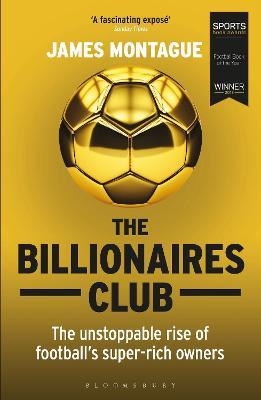 ---
The Billionaires Club: The Unstoppable Rise of Football's Super-rich Owners WINNER FOOTBALL BOOK OF THE YEAR, SPORTS BOOK AWARDS 2018
---
---
---
Ихэвчлэн хамт авдаг
Дээрх бүтээлийг авсан хэрэглэгчид ихэвчлэн эдгээрийг хамтад нь авдаг.
---
---
Танилцуулга
A compelling examination of football club ownership in the era of the super-rich

Once upon a time football was run by modest local businessmen. Today it is the plaything of billionaire oligarchs, staggeringly wealthy from oil and gas, from royalty, or from murkier sources. But who are these new masters of the universe? Where did all their money come from? And what do they want with our beautiful game? 

While almost cloaked in secrecy, the billionaire owner has to raise his head above the bunker when it comes to football ownership – a rare Achilles heel that allows access to worlds normally off limits journalists and outsiders. In the Billionaires Club James Montague delves deeper than anyone ever dared, to tell this story for the first time. He criss-crosses the world – from Dhaka to Doha, from China to Crewe, from St Louis to London, from Bangkok to Belgium – to profile this new elite, their network of money and their influence that defies geographic boundaries.

The Billionaires Club is part history of club ownership, part in-depth investigation into the money and influence that connects the super-rich around the globe, and part travel book as he follows the ever-shifting trail around the globe in an attempt to reveal the real force behind modern-day football.

At its heart The Billionaires Club is a football book, about some of the biggest clubs in the world. But it is also about something bigger: the world around us, the global economy, where the world is headed and how football has become an essential cog in this machine.

The book discusses the dawn European Super League, and the repercussions for the future of the game.
---
Үзүүлэлт
ISBN-13

:

9781472923127

Худалдаанд гарсан огноо :

2018-08-09

Формат :

Зөөлөн хавтастай

Нүүрний тоо :

336 нүүр

Эрхлэн гаргасан :

Bloomsbury Publishing PLC

Жин :

234 гр
| | |
| --- | --- |
| ISBN-13 | 9781472923127 |
| Худалдаанд гарсан огноо | 2018-08-09 |
| Формат | Зөөлөн хавтастай |
| Нүүрний тоо | 336 нүүр |
| Эрхлэн гаргасан | Bloomsbury Publishing PLC |
| Жин | 234 гр |
---
---
Хэрэглэгчийн сэтгэгдэл
---
Сэтгэгдэл үлдээх
Бусад үйлчлүүлэгчидтэй санал бодлоо хуваалцаарай
Та сэтгэгдэл бичихийн тулд нэвтэрсэн байх ёстой.
Нэвтрэх
Хэрэглэгчийн сэтгэгдэл байхгүй