The Business of Excellence: Building high-performance teams and organizations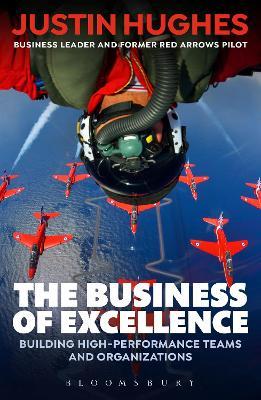 ---
The Business of Excellence: Building high-performance teams and organizations
---
---
---
Ихэвчлэн хамт авдаг
Дээрх бүтээлийг авсан хэрэглэгчид ихэвчлэн эдгээрийг хамтад нь авдаг.
---
---
Танилцуулга
"A vivid, compelling and highly readable insight into building world-leading teams and organizations." - Dr Catherine Raines, Chief Executive, UK Trade & Investment

The Business of Excellence offers a unique and compelling perspective on the drivers of excellence in teams and organizations.  The author, Justin Hughes, brings an unusual mix of experience and insight, having worked as a management consultant to some of the world's most successful organizations, in addition to having served for 12 years as a military fighter pilot, where he became Executive Officer on the RAF Red Arrows.

The challenges of high performance and leadership are explored in depth, and are illustrated with insights, interviews and case studies from the military, sporting and corporate worlds.  The material includes a proprietary performance model that can be applied to a wide spectrum of organizations, focusing on:
 
 · People: the primacy of attitude over skills
 · Capability: building alignment before setting people free 
 · Delivery: a process to close the gap between desired and actual outcomes
 · Learning: how to accelerate performance in real time
 · Leadership: exhibiting a set of behaviours such that others choose to follow
 · Risk: avoiding the victory of compliance over outcomes.
 
 In The Business of Excellence, Justin deconstructs the drivers of high performance with a rare clarity, insight and accessibility, to illustrate and explain tangible tools and methods, all of which can be applied by readers in their own teams and organizations.
---
Үзүүлэлт
ISBN-13

:

9781472953599

Худалдаанд гарсан огноо :

2023-06-07

Формат :

Зөөлөн хавтастай

Нүүрний тоо :

360 нүүр

Эрхлэн гаргасан :

Bloomsbury Publishing PLC

Жин :

388 гр
| | |
| --- | --- |
| ISBN-13 | 9781472953599 |
| Худалдаанд гарсан огноо | 2023-06-07 |
| Формат | Зөөлөн хавтастай |
| Нүүрний тоо | 360 нүүр |
| Эрхлэн гаргасан | Bloomsbury Publishing PLC |
| Жин | 388 гр |
---
---
Хэрэглэгчийн сэтгэгдэл
---
Сэтгэгдэл үлдээх
Бусад үйлчлүүлэгчидтэй санал бодлоо хуваалцаарай
Та сэтгэгдэл бичихийн тулд нэвтэрсэн байх ёстой.
Нэвтрэх
Хэрэглэгчийн сэтгэгдэл байхгүй