From Strength to Strength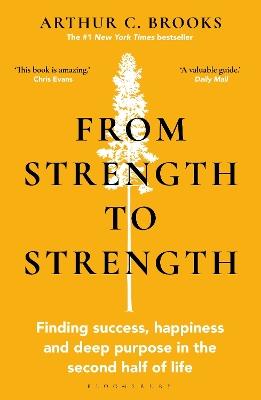 ---
From Strength to Strength
---
---
---
Ихэвчлэн хамт авдаг
Дээрх бүтээлийг авсан хэрэглэгчид ихэвчлэн эдгээрийг хамтад нь авдаг.
---
---
Танилцуулга
The #1 New York Times Bestseller

'In this book, Arthur C. Brooks helps people find greater happiness as they age and change' - The Dalai Lama 

'This book is amazing' - Chris Evans

'A valuable guide to finding new purpose and success in later life' - Daily Mail 

From the bestselling author and columnist behind The Atlantic's popular 'How to Build a Life' series, a guide to transforming the life changes we fear into a source of strength. 

In the first half of life, ambitious strivers embrace a simple formula for success in work and life: focus single-mindedly, work tirelessly, sacrifice personally, and climb the ladder relentlessly. 

It works. Until it doesn't. 

The second half of life is governed by different rules. In middle age, many strivers begin to find success coming harder and harder, rewards less satisfying, and family relationships withering. In response, they do what strivers always do: they double down on work in an attempt to outrun decline and weakness, and deny the changes that are becoming more and more obvious. The result is often anger, fear, and disappointment at a time in life that they imagined would be full of joy, fulfilment and pride. 

It doesn't have to be that way. In From Strength to Strength, happiness expert and bestselling author Arthur C. Brooks reveals a path to beating the 'striver's curse.' Drawing on science, classical philosophy, theology and history, he shares strategies for releasing old habits and forming new life practices, showing you how to: 

 - Kick the habits of workaholism, success addiction, and self-objectification 
- Meditate on death – in order to beat fear and live well 
- Start a spiritual adventure 
- Embrace weakness in a way that turns it into strength. 

Change in your life is inevitable, but suffering is not. From Strength to Strength shows you how to accept the gifts of the second half of life with grace, joy, and ever deepening purpose.
---
Үзүүлэлт
ISBN-13

:

9781472989758

Худалдаанд гарсан огноо :

2023-03-02

Формат :

Зөөлөн хавтастай

Нүүрний тоо :

272 нүүр

Эрхлэн гаргасан :

Bloomsbury Publishing PLC

Жин :

220 гр
| | |
| --- | --- |
| ISBN-13 | 9781472989758 |
| Худалдаанд гарсан огноо | 2023-03-02 |
| Формат | Зөөлөн хавтастай |
| Нүүрний тоо | 272 нүүр |
| Эрхлэн гаргасан | Bloomsbury Publishing PLC |
| Жин | 220 гр |
---
---
Хэрэглэгчийн сэтгэгдэл
---
Сэтгэгдэл үлдээх
Бусад үйлчлүүлэгчидтэй санал бодлоо хуваалцаарай
Та сэтгэгдэл бичихийн тулд нэвтэрсэн байх ёстой.
Нэвтрэх
Хэрэглэгчийн сэтгэгдэл байхгүй