Rough Magic: Riding the world's wildest horse race. A Richard and Judy Book Club pick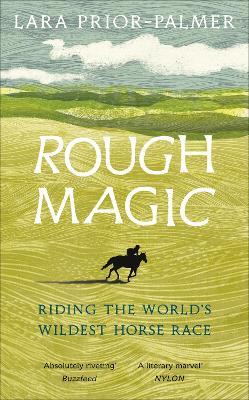 ---
Rough Magic: Riding the world's wildest horse race. A Richard and Judy Book Club pick
---
---
---
Ихэвчлэн хамт авдаг
Дээрх бүтээлийг авсан хэрэглэгчид ихэвчлэн эдгээрийг хамтад нь авдаг.
---
---
Танилцуулга
WINNER STANFORD TRAVEL WRITING AWARDS 2020
SHORTLISTED FOR THE WILLIAM HILL PRIZE 2019

'Such an addictive and likeable book...One of this year's best memoirs' The Telegraph

'It's the resistance to the obvious narratives that makes Rough Magic so appealing: the book undermines lazy women-in-the-wilderness tropes at every turn.' Sarah Moss, Guardian

'A heroic tale beautifully told' TLS

'Rough Magic is transporting, beguiling and terrifically entertaining' Daily Mail



The Mongol Derby is the world's toughest horse race. A feat of endurance across the vast Mongolian plains once traversed by the people of Genghis Khan, competitors ride 25 horses across a distance of 1000km. Many riders don't make it to the finish line.

In 2013 Lara Prior-Palmer – nineteen, underprepared but seeking the great unknown – decided to enter the race. Driven by her own restlessness, stubbornness, and a lifelong love of horses, she raced for seven days through extreme heat and terrifying storms, catching a few hours of sleep where she could at the homes of nomadic families. Battling bouts of illness and dehydration, exhaustion and bruising falls, she found she had nothing to lose, and tore through the field with her motley crew of horses. In one of the Derby's most unexpected results, she became the youngest-ever champion and the first woman to win the race.

A tale of adventure, fortitude and poetry, Rough Magic is the extraordinary story of one young woman's encounter with oblivion, and herself.
---
Үзүүлэлт
ISBN-13

:

9781785038853

Худалдаанд гарсан огноо :

2021-05-29

Формат :

Хатуу хавтастай

Нүүрний тоо :

320 нүүр

Эрхлэн гаргасан :

Ebury Publishing

Жин :

437 гр

Хэмжээс :

222 x 144 x 31 мм
| | |
| --- | --- |
| ISBN-13 | 9781785038853 |
| Худалдаанд гарсан огноо | 2021-05-29 |
| Формат | Хатуу хавтастай |
| Нүүрний тоо | 320 нүүр |
| Эрхлэн гаргасан | Ebury Publishing |
| Жин | 437 гр |
| Хэмжээс | 222 x 144 x 31 мм |
---
---
Хэрэглэгчийн сэтгэгдэл
---
Сэтгэгдэл үлдээх
Бусад үйлчлүүлэгчидтэй санал бодлоо хуваалцаарай
Та сэтгэгдэл бичихийн тулд нэвтэрсэн байх ёстой.
Нэвтрэх
Хэрэглэгчийн сэтгэгдэл байхгүй