The Kennedy Curse: The shocking true story of America's most famous family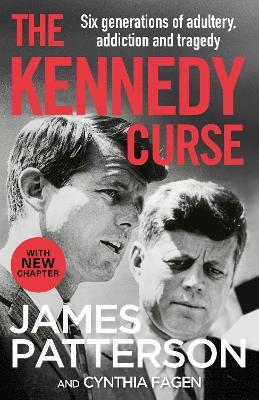 ---
The Kennedy Curse: The shocking true story of America's most famous family
---
---
---
Ихэвчлэн хамт авдаг
Дээрх бүтээлийг авсан хэрэглэгчид ихэвчлэн эдгээрийг хамтад нь авдаг.
---
---
Танилцуулга
Now with an all-new bonus chapter - in the bestselling The Kennedy Curse, 'James Patterson applies his writerly skills to real-life history . . . re-telling the political clan's rise and fall and rise again (and fall again) with novelistic style' (People). 
________________________________

Kennedys were always taught to win at all costs. And they did - but the price they paid was unimaginable . . .

Across decades and generations, the Kennedys have been a family of charismatic adventurers, raised to take risks and excel. Their name is synonymous with American royalty. Their commitment to public service is legendary. But, for all the successes, the family has been blighted by assassinations, fatal accidents, drug and alcohol abuse and sex scandals. 

To this day, the Kennedys occupy a unique, contradictory place in the world's imagination: at once familiar and unknowable; charmed and cursed. The Kennedy Curse is a revealing, fascinating account of America's most famous family, as told by the world's most trusted storyteller.
________________________________
Also published as The House of Kennedy in the US.

'When I wrote my first novel after several non-fiction works about politics, James Patterson lovingly lambasted me for infringing on his thriller territory. Now I know how he feels as he crosses into non-fiction politics with this juicy and entertaining look at a political family that continues to wield power and influence. He's too good - it isn't fair!' JAKE TAPPER, CNN anchor and author of The Hellfire Club
---
Үзүүлэлт
ISBN-13

:

9781787465350

Худалдаанд гарсан огноо :

2021-03-04

Формат :

Зөөлөн хавтастай

Нүүрний тоо :

448 нүүр

Эрхлэн гаргасан :

Cornerstone

Жин :

334 гр

Хэмжээс :

197 x 128 x 29 мм
| | |
| --- | --- |
| ISBN-13 | 9781787465350 |
| Худалдаанд гарсан огноо | 2021-03-04 |
| Формат | Зөөлөн хавтастай |
| Нүүрний тоо | 448 нүүр |
| Эрхлэн гаргасан | Cornerstone |
| Жин | 334 гр |
| Хэмжээс | 197 x 128 x 29 мм |
---
---
Хэрэглэгчийн сэтгэгдэл
---
Сэтгэгдэл үлдээх
Бусад үйлчлүүлэгчидтэй санал бодлоо хуваалцаарай
Та сэтгэгдэл бичихийн тулд нэвтэрсэн байх ёстой.
Нэвтрэх
Хэрэглэгчийн сэтгэгдэл байхгүй