Learning Tableau 2022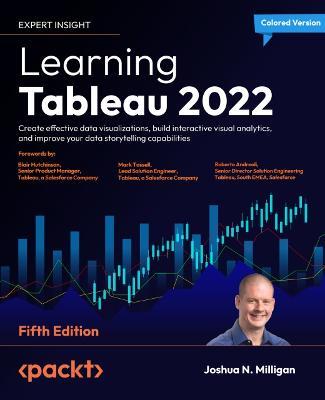 ---
---
---
Ихэвчлэн хамт авдаг
Дээрх бүтээлийг авсан хэрэглэгчид ихэвчлэн эдгээрийг хамтад нь авдаг.
---
---
Танилцуулга
Now in color, this edition of Learning Tableau will empower you to bring data to life and make better business decisions.

Purchase of the print or Kindle book includes a free eBook in PDF format.

Key Features

Learn the basics of data analysis, from snappy visualizations to comprehensive dashboards
Gain meaningful insights with geospatial analysis, scripting extensions, and other advanced methods
Explore the latest Tableau 2022 features, including Einstein Discovery and Explain Data

Book DescriptionLearning Tableau 2022 helps you get started with Tableau and data visualization, but it does more than just cover the basic principles. It helps you understand how to analyze and communicate data visually, and articulate data stories using advanced features.

This new edition is updated with Tableau's latest features, such as dashboard extensions, Explain Data, and integration with CRM Analytics (Einstein Analytics), which will help you harness the full potential of artificial intelligence (AI) and predictive modeling in Tableau.

After an exploration of the core principles, this book will teach you how to use table and level of detail calculations to extend and alter default visualizations, build interactive dashboards, and master the art of telling stories with data.

You'll learn about visual statistical analytics and create different types of static and animated visualizations and dashboards for rich user experiences. We then move on to interlinking different data sources with Tableau's Data Model capabilities, along with maps and geospatial visualization. You will further use Tableau Prep Builder's ability to efficiently clean and structure data.

By the end of this book, you will be proficient in implementing the powerful features of Tableau 2022 to improve the business intelligence insights you can extract from your data.

What you will learn

Develop stunning visualizations to explain complex data with clarity
Build interactive dashboards to drive actionable user insights
Explore Data Model capabilities and interlink data from various sources
Create and use calculations to solve problems and enrich your analytics
Enable smart decision-making with data clustering, distribution, and forecasting
Extend Tableau's native functionality with extensions, scripts, and AI through CRM Analytics (formerly Einstein Analytics)
Leverage Tableau Prep Builder's amazing capabilities for data cleaning and structuring
Share your data stories to build a culture of trust and action

Who this book is forThis Tableau book is for aspiring BI developers and data analysts, data scientists, researchers, and anyone else who wants to gain a deeper understanding of data through Tableau. This book starts from the ground up, so you won't need any prior experience with Tableau before you dive in, but a full Tableau license (or 14-day demo license) is essential to be able to make use of all the exercises.
---
Үзүүлэлт
ISBN-13

:

9781801072328

Худалдаанд гарсан огноо :

2022-08-26

Формат :

Зөөлөн хавтастай

Нүүрний тоо :

568 нүүр

Эрхлэн гаргасан :

Packt Publishing Limited
| | |
| --- | --- |
| ISBN-13 | 9781801072328 |
| Худалдаанд гарсан огноо | 2022-08-26 |
| Формат | Зөөлөн хавтастай |
| Нүүрний тоо | 568 нүүр |
| Эрхлэн гаргасан | Packt Publishing Limited |
---
---
Хэрэглэгчийн сэтгэгдэл
---
Сэтгэгдэл үлдээх
Бусад үйлчлүүлэгчидтэй санал бодлоо хуваалцаарай
Та сэтгэгдэл бичихийн тулд нэвтэрсэн байх ёстой.
Нэвтрэх
Хэрэглэгчийн сэтгэгдэл байхгүй