1000 Years of Joys and Sorrows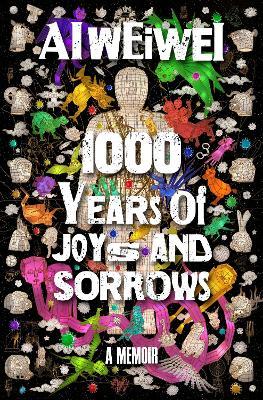 ---
1000 Years of Joys and Sorrows
---
---
---
Ихэвчлэн хамт авдаг
Дээрх бүтээлийг авсан хэрэглэгчид ихэвчлэн эдгээрийг хамтад нь авдаг.
---
---
Танилцуулга
Through the sweeping, extraordinary story of his own and his father's lives, Ai Weiwei - one of the world's most famous artists and activists - tells an epic tale of China over the last 100 years.

 Ai Weiwei's sculptures and installations have been viewed by millions around the globe, and his architectural achievements include helping to design Beijing's iconic Bird's Nest Olympic Stadium. But his political activism has long made him a target of the Chinese authorities, which culminated in months of secret detention without charge in 2011. Here, for the first time, Ai Weiwei explores the origins of his exceptional creativity and passionate political beliefs through his own life story and that of his father, whose own creativity was stifled.

 Once an intimate of Mao Zedong, Ai Weiwei's father was branded a rightist during the Cultural Revolution, and he and his family were banished to a desolate place known as 'Little Siberia', where Ai Qing was sentenced to hard labour cleaning public toilets. Ai Weiwei recounts his childhood in exile, and his difficult decision to leave his family to study art in America. With candour and wit, he details his return to China and his rise from artistic unknown to art world superstar and international human rights activist - and how his work has been shaped by living under a totalitarian regime.

 At once ambitious and intimate, 1000 Years of Joys and Sorrows offers a deep understanding of the forces that have shaped modern China, and serves as a timely reminder of the urgent need to protect freedom of expression.
---
Үзүүлэлт
ISBN-13

:

9781847923516

Худалдаанд гарсан огноо :

2021-03-26

Формат :

Зөөлөн хавтастай

Нүүрний тоо :

400 нүүр

Эрхлэн гаргасан :

Vintage Publishing

Жин :

651 гр
| | |
| --- | --- |
| ISBN-13 | 9781847923516 |
| Худалдаанд гарсан огноо | 2021-03-26 |
| Формат | Зөөлөн хавтастай |
| Нүүрний тоо | 400 нүүр |
| Эрхлэн гаргасан | Vintage Publishing |
| Жин | 651 гр |
---
---
Хэрэглэгчийн сэтгэгдэл
---
Сэтгэгдэл үлдээх
Бусад үйлчлүүлэгчидтэй санал бодлоо хуваалцаарай
Та сэтгэгдэл бичихийн тулд нэвтэрсэн байх ёстой.
Нэвтрэх
Хэрэглэгчийн сэтгэгдэл байхгүй